Would you like to create a buzz in the village? Then why not sign up for a Twyford Together or Twyford Parish Council gardening activity? There's something for everyone, whatever your age. And if you have a Bee Friendly Together idea, we can make it happen.
The BIG Twyford Tree Planting Project
Following a busy half term with the children, collecting and planting tree seeds, Rebecca Howard had an idea. Why not create a community forest? She contacted Twyford Parish Council for help and, very soon, The BIG Twyford Tree Planting Project was born. Thanks to a successful crowdfunding campaign, over 75 trees were planted in December 2020. Twyford Parish Council plans to plant a further 25 trees later this year with your help.
Find out more
Creating a buzz in the village
Helping to prepare the village for Twyford in Bloom is a cornerstone of what we do. 2010 saw the completion of our first insect friendly area at Jubliee Corner. Since then, many more sites have been added. For example, Twyford Library, the planter at Bell Corner, the Millennium flower bed/border in the Parish burial ground at St Mary's church, the Twinning Association garden and the Tesco Alley flower bed.
If you'd like to help with any of these areas, please get in touch.
Encouraging pollinators in Stanlake Meadow
Stanlake recreation ground is not just a meadow by name. Work began to return areas of the field to nature in 2017. Volunteers from Twyford Allotments Tenants' Association, Twyford and Ruscombe Horticultural Association and Twyford Parish Council joined forces with local residents to seed wildflowers. Subsequently, the patches have blossomed and new butterfly species have been recorded.
If you'd like to lend a helping hand, please get in touch. Alternatively, you might be interested in planting your own meadow. Check out Twyford Parish Council's website to see what was planted.
Re-wilding King George's Field
Similarly, King George's Field now boasts its own wildflower meadow. Thanks to a handful of Twyford Together volunteers who are working with Twyford Parish Council, the area was left to grow wild in 2019. As a result, many pollinator friendly plants are now emerging. For example, ox eye daisy, red clover, cuckoo flower, birds foot trefoil, red campion, bluebells, tufted vetch, scabious, orange hawkweed and crocus tomasinia. Work is ongoing to clear and seed larger patches of the meadow with pollinator friendly plants.
If you can help scarify the area in the autumn or fancy preparing the area for spring planting, please get in touch.
#BeeFriendlyTogether at the Donkey Derby
The Twyford Together stand at the annual First Twyford Scouts' Donkey Derby is an opportunity for residents to raise awareness about a cause close to their hearts. 2019 saw the launch of our 'Bee Friendly Together' campaign. So what did we do and who was involved? Bee Friendly Together tote bags were designed by Julian Clark Creative Ltd and produced by Ideal Branding. Attached to each bag was a tip to help residents bring back the bees (written by the children from Polehampton Junior School and Charvil Piggott Primary School). The bags were sponsored by two, bee friendly businesses in RG10: Hare Hatch Sheeplands and Binghams Brewery. All in all, a great collaborative effort.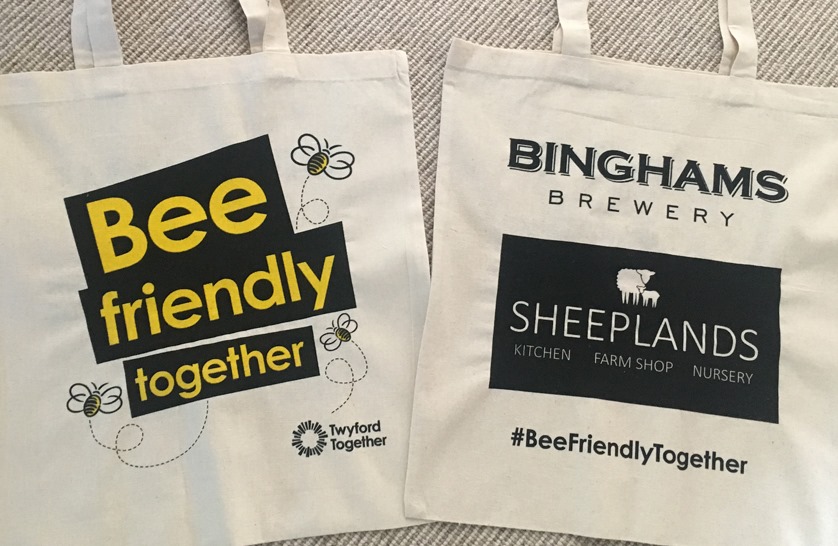 Other activities at the Twyford Together stall included a home grown and home made, bee friendly product sale (plants, beeswax lip balm and soy candles) eco tombola (showcasing £600 worth of products recommended by Twyford Together Facebook followers and donated by companies) and a guess the number of bags in an eco brick competition run by our Twyford Rethinks Its Plastics group.
If you have an idea for our 2022 Donkey Derby stand, please get in touch.